View all posts
TruBank Renews Sponsorship of Des Moines Challenge Disc Golf
03/23/2023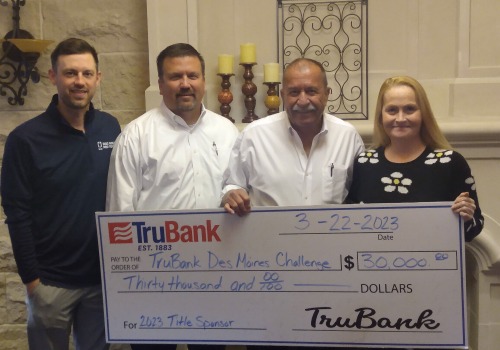 TruBank will return as the premier sponsor of the 2023 TruBank Des Moines Challenge presented by Discraft. Approximately 180 professional disc golf men and women will compete from June 23rd through the 25th to win this Disc Golf Pro Tour (DGPT) Elite Series tournament held at Pickard Park in Indianola, Iowa
In addition, there will be a celebrity kickball game Saturday evening and 16 pro disc golfers will have a chance to win a brand-new vehicle curtesy of a local dealership during the "Huck for a Truck" event Friday. Similar to a $1,000,000 shot opportunity played in 2022 at the DGPT's MVP Open, TruBank Des Moines Challenge will give the 16 pro players three throws from approximately 550 yards to make a hole-in-one on hole 5 of Pickard Park which includes a water hazard right before the basket.
Not only will players have this unique opportunity to win something for themselves, but the pro women will also be given an extra bonus – equal winnings. After watching last year's event, TruBank's CEO Keith Welling made the pledge to ensure the 2023 women's winner would receive the same pay as the male winner. Based upon last year's payouts, that would be a $4,000 increase.
This pledge aligns with TruBank's long time mission of helping the community and serving customers with the best customer service. In fact, 2023 marks the bank's 140th Anniversary. TruBank will celebrate this milestone throughout 2023 and even have some special surprises at the disc golf tournament.
Spectator tickets are on sale now (www.desmoineschallenge.com). Individuals will have several different ticket options available to partake in the event with attendance expected to be almost 1,000 more than last year.
"We had tremendous turnout and feedback from everyone last year," says Tournament Director Ty Tannatt. "We've made course improvements so people can see and experience more in 2023. We have some outstanding partners such as TruBank committed to making this an outstanding event for spectators and for the surrounding community."
Pictured (L to R): Ty Tannatt (Tournament Director), Clint Welling (TruBank President), Keith Welling (TruBank CEO), and Amanda Beery (DSM Metro Disc Golf Club President).