View all posts
TruBank Des Moines Challenge - Thank You!
07/05/2023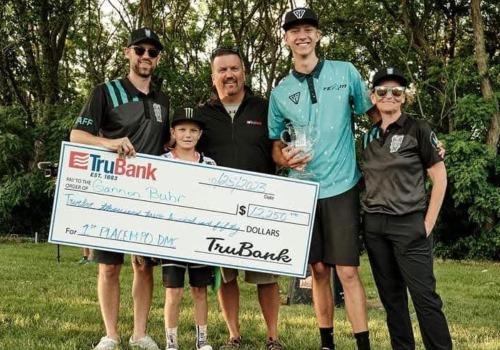 Another successful professional disc golf tournament played at Pickard Park is in the books!
Thank You!
Let us first say thank you! Thanks to all the professional players, spectators and fans, staff, and volunteers who came out to support this fast-growing sport. It was not the full weekend everyone hoped for, but everyone made the most of it. We saw a great turn out both Friday and Sunday, including those fans getting to the course at 6:30 AM on Sunday to cheer on the professional players starting early to pick up from what little action that did occur on Saturday. The professional players really appreciated it as you could see it in their smiles as they came to the tee.
Some individuals and groups to specifically say thank you:
Ty Tannatt and Amanda Beery – as tournament directors, they have been the driving force behind making everything run smoothly and making the tournament bigger each year. They have put thousands of hours behind this so give them a big thank you! They have also helped guide us through this sport which we are enjoying!
Volunteers – everyone was impressed with the turnout and willingness of this year's volunteers to help. There were nearly 30 volunteers ready to help before 6:30 AM on Sunday! With so many roles needed to make the tournament run effortlessly, it is easy to overlook but TruBank wants to take the time to recognize the volunteers! Partnering with Indianola Parks & Recreation, volunteers cut trees, cleaned-up brush, built new bridges & tee pads, and put down mulch several months before the start of the event. The tournament could not be successful without the volunteers!
City of Indianola and Indianola Parks & Recreation – terrific job team on making Pickard Park look so beautiful! Countless compliments were heard about the course and how Indianola was all-in to do what was needed to make the park a top-notch course. Great job to Doug and team for managing the parking situation all day Sunday after dealing with the mud from Saturday. The 2023 men's champion, Gannon Buhr, stated Pickard Park is his favorite course in the world and he is not being biased just because he grew up playing it.
Results
Congratulations to our men's and women's winners, Gannon Buhr and Kristin Tattar, respectively. They played great disc golf in unpredictable Iowa weather. Kristin won this event last year, so it was exciting to see her win again. Gannon, an Urbandale Iowa native, used his momentum from Friday to complete the win on Sunday. It was exciting for all fans to see a hometown player win! Before finishing the tournament, Gannon and Kristin were ranked #2 and #1, respectively, in Disc Golf Pro Tour (DGPT) standings. We are glad that the best players in the world came to Iowa to play. In total, 120 professional men and 46 professional women competed during this year's event.
TruBank also made history on the pro tour by creating equal pay for the men's and women's winners during an Elite Series tournament. Only the DGPT's major events have made equal winnings. Gannon and Kristin both took home $12,250 each for winning the TruBank Des Moines Challenge! The tournament continues to be one of the highest three-day payouts with over $110,000 distributed to the athletes.
Come Watch in 2024!
If you missed out on this year's tournament, it will be back again in 2024! We encourage you to experience the event as it is something very fun and unique!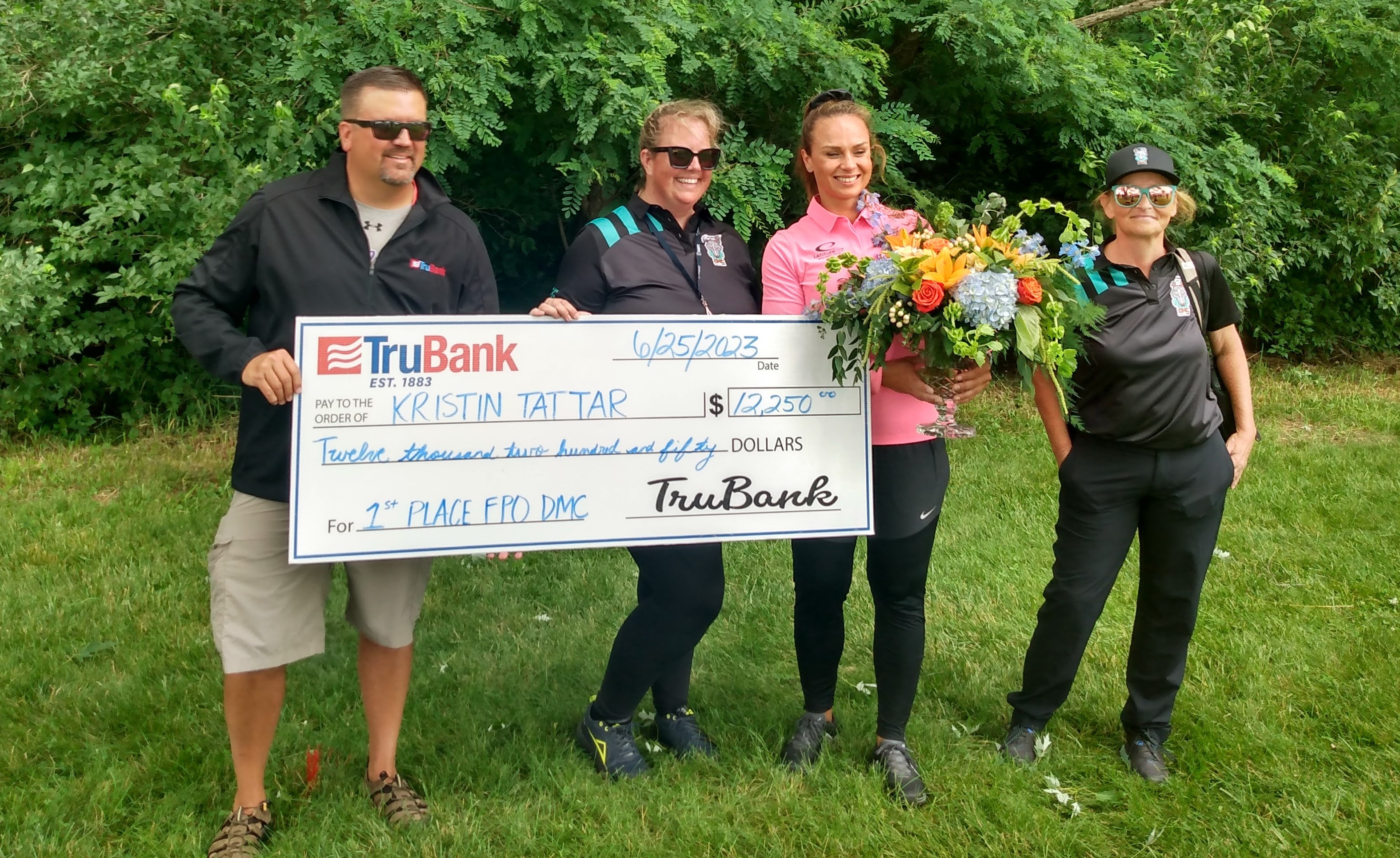 Pictured is Clint Welling presenting FPO winner Kristin Tattar with her winnings with DMC Staff.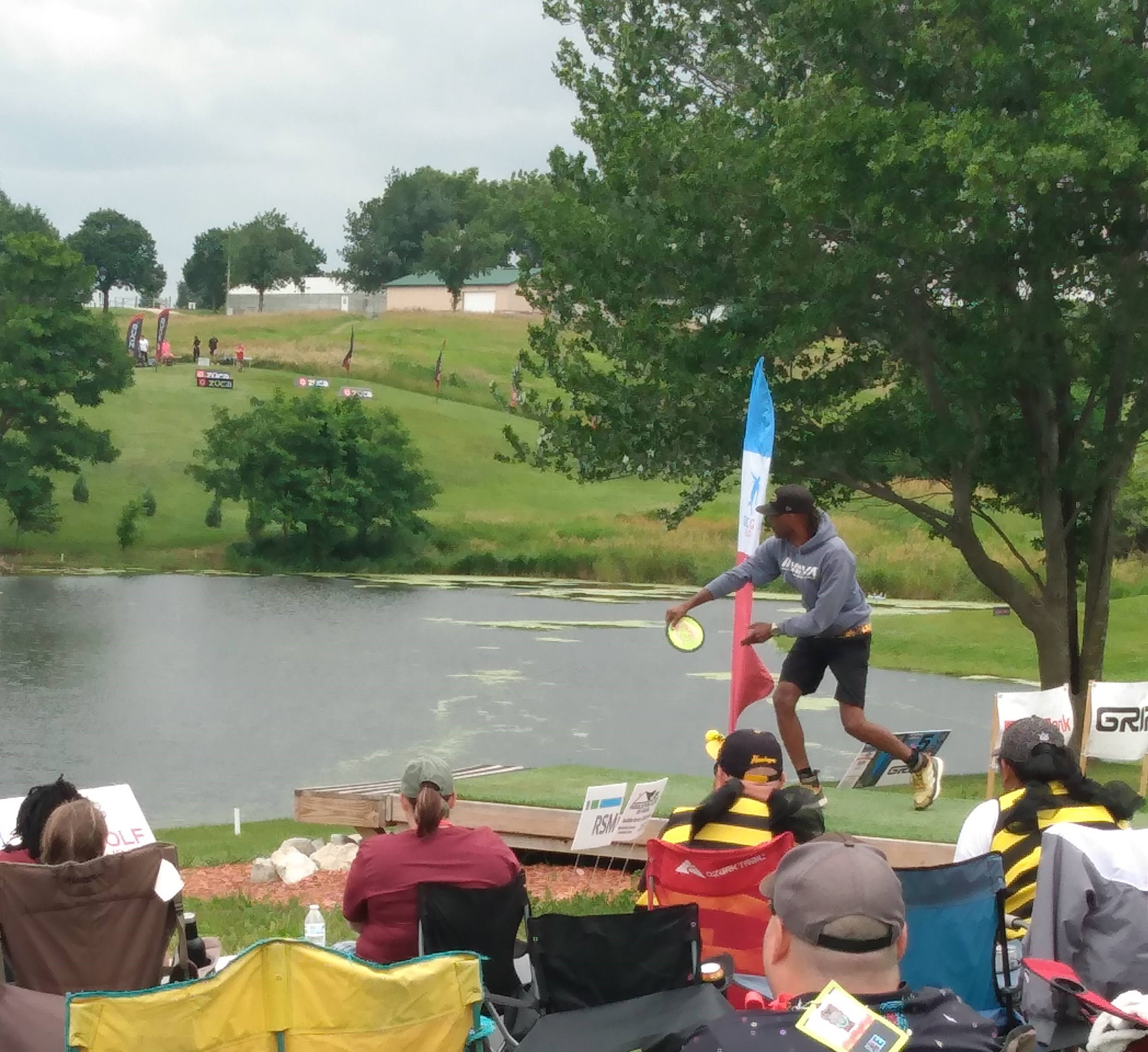 Pictured is a professional disc golf player in action on Hole #5